Endometriosis is a common inflammatory disease which affects around 120,000 New Zealanders during their reproductive years. The symptoms vary for each person, from no obvious symptoms to daily chronic pain and issues.
For Amie, endometriosis has been part of her life since her early twenties. She was diagnosed with extensive endometriosis when she underwent her first laparoscopic surgery after an ultrasound found a cyst.
Not long after her first surgery, Amie underwent a second laparoscopy for her endometriosis. Her symptoms continued to increase and, due to the heavy periods, she became anaemic.
"The endometriosis symptoms were increasingly harder to manage and were starting to interfere with living my life. In 2021 I had another ultrasound which suggested that I may also have adenomyosis and that was the push I needed to go and talk to Dr Basu about having a hysterectomy," Amie said.
Whilst there are various ways to relieve symptoms of both endometriosis and adenomyosis, one option to regain quality of life is a hysterectomy. For Amie, she had the option to have her hysterectomy undertaken through robotic-assisted surgery, a minimally-invasive surgery with the benefits of faster recovery and return to work and life in most cases. Robotic-assisted hysterectomies are provided through Wakefield Hospital by Gynaecologist, Dr Anju Basu.
"I had heard of the robotic-assisted surgery and thought it sounded pretty cutting edge. In my consultation with Dr Basu, she offered the option of robotic-assisted surgery for my hysterectomy and when she listed off the benefits I thought it sounded like a smart decision. Dr Basu was also very clear that she was in the room, sitting right next to me operating the robot and this put me at ease. Plus I enjoyed telling people I was being operated on by a robot – that's pretty different!" Amie recalled.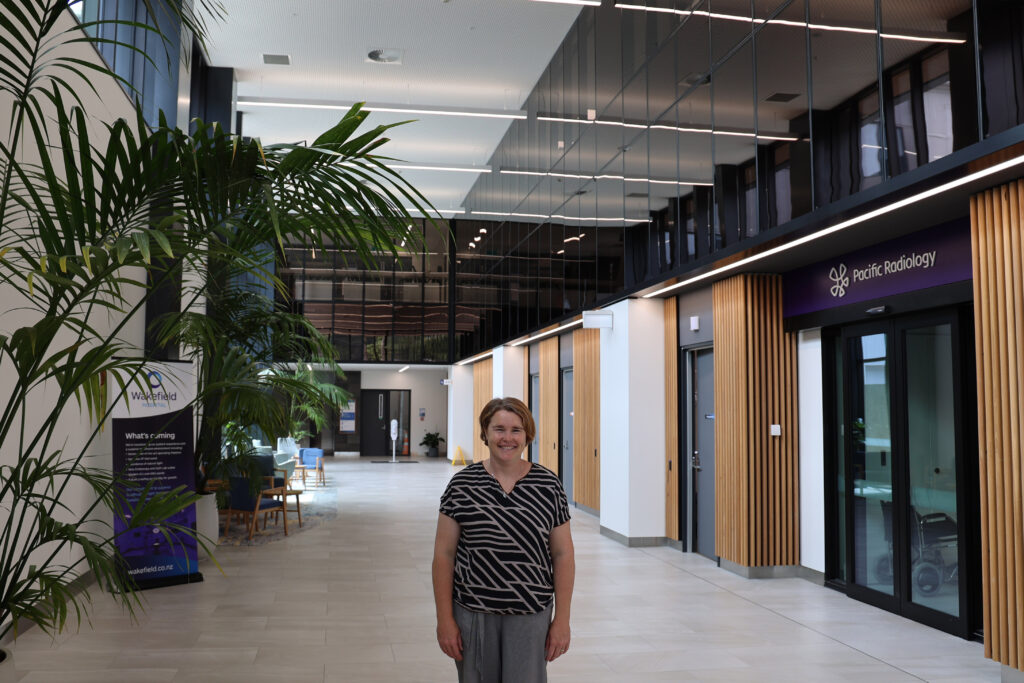 Amie's now two months post-surgery and is back to her busy life with family and work.
"This was my fifth abdominal surgery, so I knew what to expect in terms of recovery. I had braced myself for the discomfort and the pain, but I was pleasantly surprised when I got back to the ward. My mobility was better and getting in and out of bed was much more manageable.
"I was really pleased with how well I recovered. With three children I was worried about the recovery period but I was able to do most things (as long as I went slowly with frequent rests) within a few days. In fact, I would sometimes forget I'd just had major surgery and had to remind myself! I was surprised by how little pain I experienced post-surgery as well – this was all a huge bonus," Amie said.
Robotic-assisted surgery offers all the advantages of minimally invasive surgery (laparoscopic surgery) including shorter recovery, less blood loss, less pain, reduced requirement for pain relief and quicker return to normal activity. Additionally, it lends itself to more complex operations that cannot usually be performed in a minimally invasive fashion. It gives the surgeon 3D vision with a crystal-clear view of the surgical field with 10x magnification, coupled with tiny advanced wristed instruments that move like a human hand but with far superior range of motion and precision.
Robotic-assisted surgery extends the capabilities of what human eyes and hands can achieve.
This translates into better outcomes for patients, and the ability to offer minimally invasive surgery in situations where complex pathology renders laparoscopic surgery difficult or near impossible.
Safety and superior outcomes have been proven in a number of studies. This innovative technology has been available globally for many years; more than 10 million surgical procedures have been performed worldwide using the technology currently available at Wakefield Hospital.
Robotic-assisted hysterectomies are a new option for people requiring this procedure in Wellington. Evolution Healthcare invested significantly in the da Vinci Xi robot in late 2019, which has been utilised for robotic-assisted urology procedures. including partial nephrectomies and radical prostatectomies. The da Vinci Xi can support many specialties to treat patients with the latest techniques and equipment, including gynaecology at Evolution Healthcare's Wakefield Hospital, Wellington.
Dr Anju Basu, a private Gynaecologist operating from Wakefield Hospital underwent extensive robotic training throughout 2021 and 2022 to provide her patients with this innovative option.
If your GP thinks an operation is necessary then talk to them about the potential for precision robotic surgery or get in touch with our hospital to make an appointment with Dr Basu. For more information on robotic surgery please visit Wakefield Hospital/robotics. We have a number of experienced surgeons in different specialties that offer robotic-assisted surgery with their very well-developed surgical teams.